Equinox Gold Corp. has announced groundbreaking for full scale construction has taken place at the Greenstone Gold Mine, located in Ontario, Canada.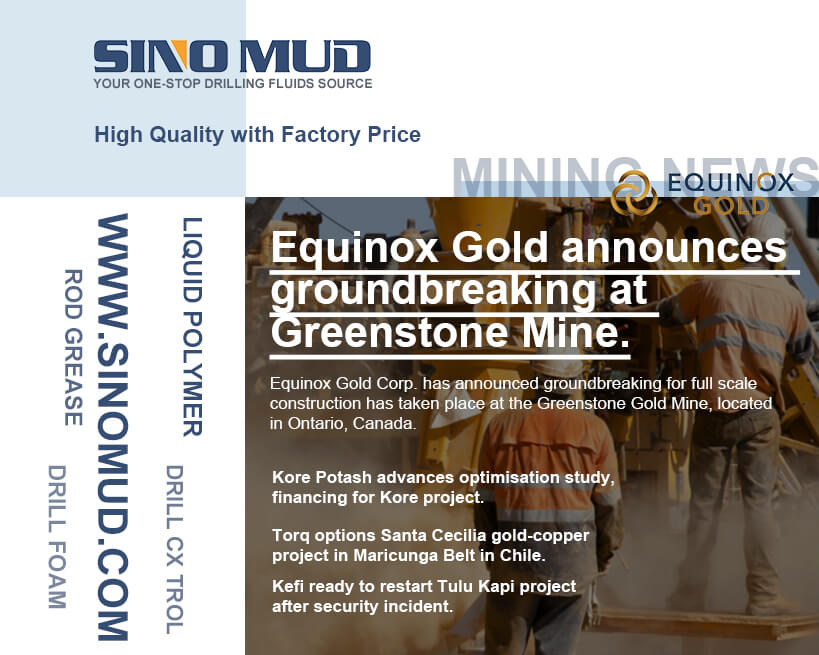 Kefi ready to restart Tulu Kapi project after security incident.                                                                                     
 Gold and copper explorer and developer Kefi Gold and Copper has reached a positive resolution to the recent security situation at the company's Tulu Kapi gold project, in Ethiopia.
Kore Potash advances optimisation study, financing for Kore project.                                                                                       
Kore Potash says work on an optimisation study and financing arrangements for the Kola project, in Congo-Brazzaville, is progressing on schedule.
SINO MUD – best drilling fluids factory in China
drilling polymer SUPER POLY(liquid pol)
bentonite SUPER GEL( gel extra)
Torq options Santa Cecilia gold-copper project in Maricunga Belt in Chile.
Torq Resources Inc has acquired an option to earn a 100% interest in the Santa Cecilia gold-copper project, located east of the city of Copiapo in northern Chile.