West Africa-focused gold explorer Montage Gold (TSXV: MAU) has closed a financing of approximately C$20 million ($15.5m) to fund its acquisition and subsequent development of the Mankono-Sissédougou joint venture project in Côte d'Ivoire.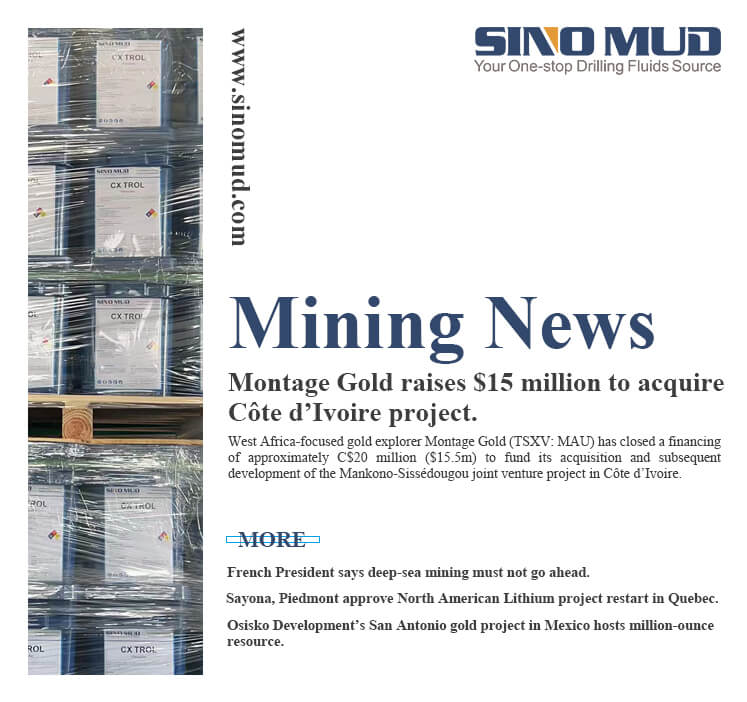 Sayona, Piedmont approve North American Lithium project restart in Quebec.                                                                                                            Sayona Quebec has formally approved the restart of spodumene concentrate production at the North American Lithium project near La Corne, Quebec. Sayona Quebec is 75% owned by Australian Sayona Mining and 25% by Piedmont Lithium, a private company.
Osisko Development's San Antonio gold project in Mexico hosts million-ounce resource. Osisko Development (TSXV: ODV, NYSE: ODV) has released an initial open pit resource of a million ounces of gold for the Sapuchi, Golfo de Oro, California, High Life and Calvario deposits at its San Antonio project in Sonora state, Mexico.
French President says deep-sea mining must not go ahead.                                                                                 
French President Emmanuel Macron said on Thursday a legal framework was needed to stop deep-sea mining from going ahead and urged countries to put their money on science to better understand and protect the world's oceans.
Kore signs heads of agreement for construction of Kola
Kore Potash has signed a heads of agreement for the construction of the Kola Potash Project.
NDC commences technical information exchange with the Guinea government
Nimba Development Company has commenced a preliminary, technical information exchange with the Government of Guinea as part of its development of the Nimba iron ore mine.
East Star Resources announces new rock chip assay results
East Star Resources has announced rock chip assay results from samples taken during geological surveys conducted over the Alatagyl target in central Kazakhstan."
Seabridge Gold completes updated PFS for KSM Project
Seabridge Gold has announced the results of an updated preliminary feasibility study for its 100% owned KSM Project, located in northern British Columbia, Canada.
Spearmint receives drill permit for Goose Gold Project
Spearmint Resources Inc. has received the drill permit from the Government of Newfoundland and Labrador Mineral Lands Division to conduct the maiden exploration drill programme on the 100% owned Goose Gold Project.