Africa-focused Gem Diamonds (LON: GEMD) has found a 129-carat rough stone at its Letšeng mine in Lesotho, the miner's first one over 100 carats mined this year.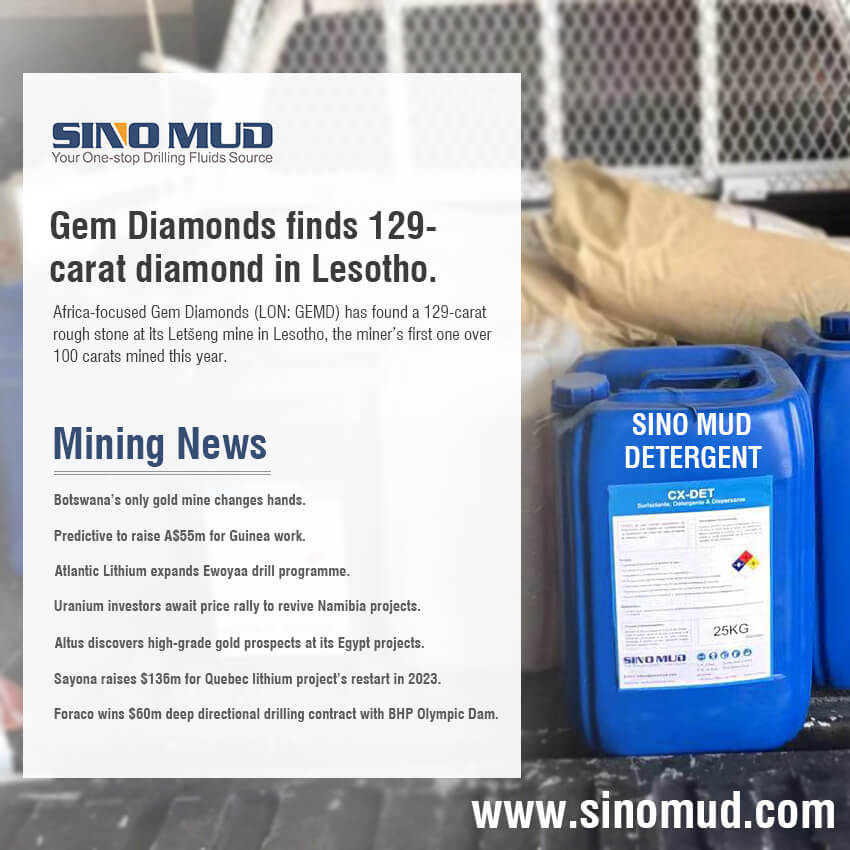 Atlantic Lithium expands Ewoyaa drill programme.
Atlantic Lithium Ltd has announced the mobilisation of an additional three drill rigs, the expansion of the drilling programme and new drilling observations at the Ewoyaa Lithium Project in Ghana.
Sayona raises $136m for Quebec lithium project's restart in 2023.                                                                                                                    Lithium developer Sayona Mining on Friday announced a successful $136 million institutional placement to fund the 2023 restart of its North American Lithium (NAL) operations (Sayona 75%;Piedmont Lithium 25%) in Québec.
Botswana's only gold mine changes hands.
gold ore mining company Galane Gold announced earlier this month that it had completed the sale of its Mupane gold mine to majority citizen-owned company Hawks Mining Company.
Mupane gold mine, located about 30 km south-east of Francistown, is the only gold mine currently in operation in Botswana.
Uranium investors await price rally to revive Namibia projects.                                                                          Namibia's finance minister said uranium miners are waiting for prices to recover before reviving projects in Africa's biggest producer of the ore, which is needed for nuclear power in a world shifting away from fossil fuels.
Predictive to raise A$55m for Guinea work.
Predictive Discovery is hoping to raise A$55-million through a share placement to institutional, sophisticated and professional investors to fund work at its Bankan gold project, in Guinea.
Foraco wins $60m deep directional drilling contract with BHP Olympic Dam.                                                                            Foraco International (TSX: FAR), a leading global provider of mineral and water drilling services, has been awarded a major contract with BHP Olympic Dam.
This contract is for exploration and evaluation drilling services near Olympic Dam mine complex, involving diamond drilling and is signed for three years firm plus two optional years extension
Altus discovers high-grade gold prospects at its Egypt projects.
Altus Strategies has announced the discovery of multiple high-grade gold prospects from reconnaissance sampling across all four of the company's projects in Egypt.
Moreover, it has also announced the award of two further gold exploration licences, totalling 349 km2, which will increase the company's aggregate holdings in Egypt to 1 914 km2 across six key project areas.