The proposed programme, at the San Lorenzo project in Chile, will target four individual prospect zones across the project with a total of 2,000-2,500m Great Southern Copper has started reconnaissance diamond drilling at its San Lorenzo project in Chile.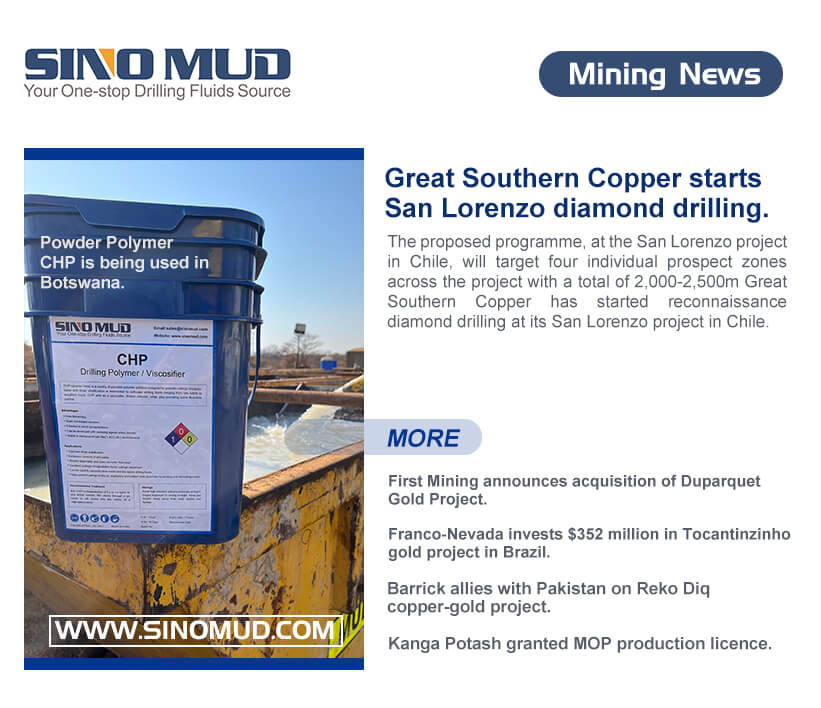 Where can I buy drilling fluids in Australia?
SINO MUD is a drilling fluids supplier, Who is specialized in providing one-stop drilling mud sources to drilling companies. SINO MUD has a drilling fluids distributor in Australia, Stock Products Item: Powder polymer CHP, Foam plus, bentonite, sand cure, Liquid polymer SUPER POLY, Drilling Polymer CORE FIX, CHP, CLAY FIX, Viscosifier CX TROL, Lubricant DRILL LUBE, Drilling Grease Rod Grease, Thread Grease.
Any demand, please contact us for a trial order: inquiry@sinomud.com.
Kanga Potash granted MOP production licence.
Kanga Potash (KP), a low-cost potash project developer operating in the Republic of Congo (ROC), has received approval for its exploitation (mining and production) licence.
Atlantic Lithium provides exploration update.
Atlantic Lithium Ltd has announced additional assay results from the ongoing resource and exploration drilling programme at the Ewoyaa Lithium Project in Ghana, West Africa.
Tinna Belo Sun Mining rises after Brazil court overturns halt of Volta Grande gold project.                                                                                    
Shares of Belo Sun Mining (TSX: BSX; US-OTC: BSXGF) jumped by 55% on Wednesday morning after the company reported that the Supreme Court of Pará State in Brazil had overturned a suspension order related to the construction and environmental licences of its Volta Grande gold project.
First Mining announces acquisition of Duparquet Gold Project.
First Mining Gold has made an offer to acquire all of the issued and outstanding shares of Beattie Gold Mines, as part of a larger plan to acquire the Duparquet Gold Project.
Kenorland Minerals options Alaska copper project to Antofagasta. Canadian junior Kenorland Minerals has inked an earn-in agreement with Antofagasta that gives the Chilean miner an option to acquire a 70% interest in the Tanacross copper-gold project in Alaska.
Maple Gold completes regional airborne Mag-EM survey.
Maple Gold Mines Ltd has announced that the 50/50 joint venture between with Agnico Eagle Mines Ltd has completed a regional airborne magnetic and electromagnetic survey to support exploration drill targeting at projects in Quebec, Canada.
Franco-Nevada invests $352 million in Tocantinzinho gold project in Brazil.                                                                          
Gold streaming company Franco-Nevada (TSX: FNV; NYSE: FNV) has committed to a finance package totalling $352.5 million for the Tocantinzinho project located in Pará state, Brazil, currently held by G Mining Ventures (TSXV: GMIN). The project is construction-ready, and first production is expected in the second half of 2024.
Barrick allies with Pakistan on Reko Diq copper-gold project.
Barrick Gold and the government of Pakistan have jointly declared their commitment to developing the Reko Diq copper-gold project as a world-class mine.