China's Zhejiang Huayou Cobalt plans to invest $300 million on rapid development of a lithium mine and processing plant at its newly acquired Arcadia project in Zimbabwe, according to company documents seen by Reuters on Tuesday.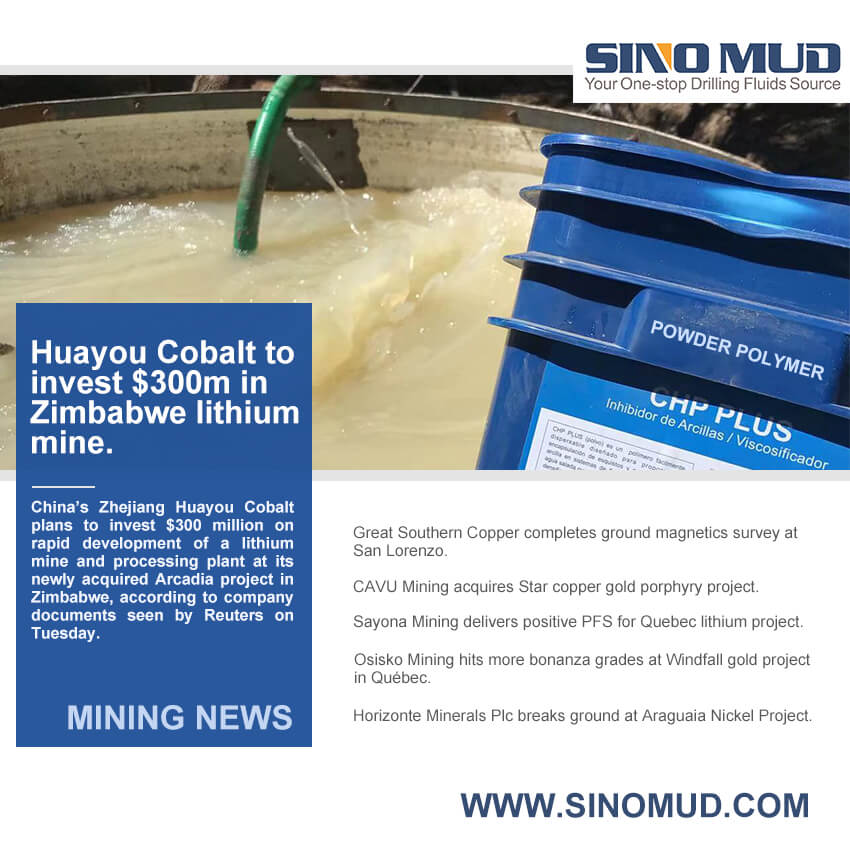 CAVU Mining acquires Star copper gold porphyry project.
CAVU Mining has signed a definitive agreement to acquire the Star copper gold porphyry project in British Columbia from Prosper Gold.
Sayona Mining delivers positive PFS for Quebec lithium project.                                                                                 Australian lithium producer Sayona Mining (ASX: SYA) has published a positive pre‐feasibility study (PFS) for its flagship North American Lithium (NAL) project in Québec, confirming the NAL operation's technical and financial viability over a 27-year mine life.
OZ Minerals announces option to acquire Kalkaroo project.
OZ Minerals has agree a new strategic relationship with Havilah Resources in the prospective Curnamona Province in South Australia, including the option to acquire the Kalkaroo project.
Osisko Mining hits more bonanza grades at Windfall gold project in Québec.                                                                       Still progressing with infill and expansion drilling at its 100% owned Windfall gold project, Osisko Mining (TSX: OSK) has received more promising analytical results that would support its upcoming feasibility study, which is expected by year-end.
Horizonte Minerals Plc breaks ground at Araguaia Nickel Project.
Horizonte Minerals Plc has officially commenced construction and broken ground at its flagship Araguaia Nickel Project in Brazil.
Integra drills record silver grades at DeLamar project in Idaho.                                                                                 Integra Resource has released results of drilling at its DeLamar gold-silver project in southwestern Idaho, targeting the bulk-tonnage resource at Sullivan Gulch, the eastern portion of the deposit.
Ragusa signs farm-in agreement with May Drilling.
Ragusa Minerals Ltd has entered into a tenement farm-in agreement with May Drilling for the exclusive right to earn an initial 90% interest in five tenements.
Biden plan would block Pebble gold mine.                                                                                                                            
The Biden administration on Wednesday is outlining new pollution restrictions that would thwart a long-stalled plan to mine for gold near Alaska's Bristol Bay.
Great Southern Copper completes ground magnetics survey at San Lorenzo.
Great Southern Copper plc has completed the processing and interpretation of its ground magnetic data at the San Lorenzo copper-gold project, Chile.