The Panamanian government and Canada's First Quantum are nearing an agreement on their negotiations over the contract to operate a major copper mine, Ebrahim Asvat, a lawyer advising the government on the negotiations told Reuters on Tuesday.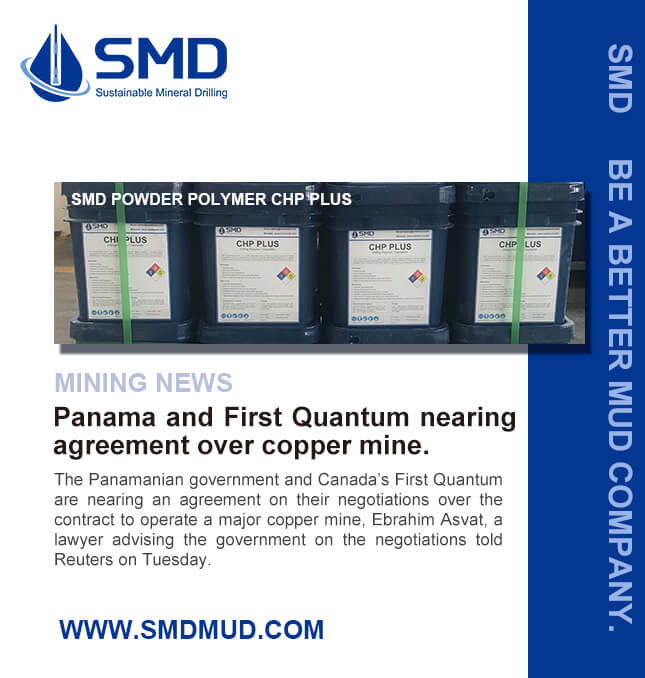 Debswana and Huawei unveil world's first 5G-oriented smart diamond mine project.
Botswana's Debswana and Huawei have announced the world's first 5G-oriented smart diamond mine project.
Denarius resource supports restart of 230-year-old Colombian gold mine.
Denarius Metals' (TSXV: DSLV) first resource estimate for its Zancudo project to revive an 18th century gold mine in Colombia confirms its high-grade potential.
International Lithium announces Raleigh Lake lithium project maiden MRE.
International Lithium Corp. has announced a maiden mineral resource estimate for the Raleigh Lake lithium project, located approximately 25 km west of Ignace, Ontario, Canada."
Armenia approves restart of Amulsar gold mine.
The government of Armenia has inked a $250 million deal with Lydian Armenia, the company that owns the license to operate the vast Amulsar gold mine, effectively allowing the resumption of operations.
Western Tethyan completes due diligence on Silvova gold project.
Ariana Resources plc has announced that its 75% held subsidiary, Western Tethyan Resources Ltd, has completed its due diligence on the Slivova gold project in Kosovo, which is owned by Avrupa Minerals Ltd.
Agnico Eagle reinvests in Rupert Resources and its Ikkari gold project. Rupert intends to use the proceeds from the private placement to fund ongoing exploration and development on its properties in Finland.
Thor commences geophysics at Alford West project.
Thor Energy Plc has announced the commencement of an advanced geophysical technique at the Alford West Project, South Australia, by 30% owned EnviroCopper Ltd."
Mali forecasts 3.5% decline in industrial gold output in 2023.
Mali is one of Africa's top gold producers and home to industrial mines operated by companies including Barrick Gold, B2Gold Corp, Resolute Mining, AngloGold Ashanti and Hummingbird Resources.