Shares in Tertiary Minerals (LON: TYM) jumped on Thursday after the junior said it had inked a technical cooperation agreement with First Quantum Minerals (TSX: FM), which would "turbo-charge" its copper exploration projects in Zambia.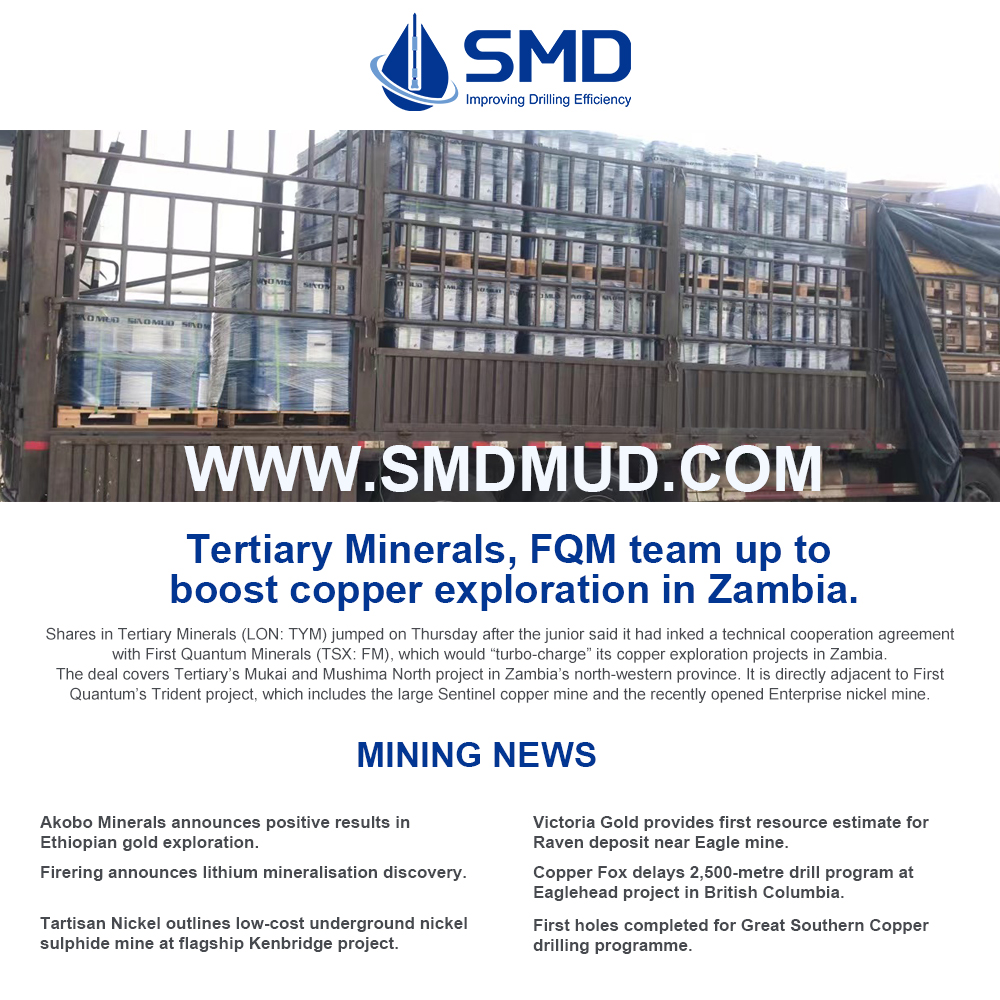 The deal covers Tertiary's Mukai and Mushima North project in Zambia's north-western province. It is directly adjacent to First Quantum's Trident project, which includes the large Sentinel copper mine and the recently opened Enterprise nickel mine.
Akobo Minerals announces positive results in Ethiopian gold exploration.
Akobo Minerals has announced positive results in a gold exploration activity in Southwestern Ethiopia.
Victoria Gold provides first resource estimate for Raven deposit near Eagle mine.
Victoria Gold (TSXV: GCX) has released an initial resource estimate for the Raven gold deposit near the producing Eagle gold mine, part of its Dublin Gulch property in Canada's Yukon Territory. It lies at the extreme southeast contact of the Nugget intrusive stock, the second-largest intrusive body on the 555 km2 property, after the Dublin Gulch stock that hosts the Eagle mine.
Firering announces lithium mineralisation discovery.
Firering Strategic Minerals plc has released an operational update on its flagship Atex Lithium-Tantalum Project, in Côte d'Ivoire.
Tartisan Nickel outlines low-cost underground nickel sulphide mine at flagship Kenbridge project.                                                                                            
Following a 10,700-metre drill program completed in late 2021, Tartisan Nickel has released a preliminary economic assessment (PEA) for its 100%-owned Kenbridge nickel project in northwestern Ontario's Kenora Mining District.
Lithium Ionic completes acquisition of two lithium mining licences.
Lithium Ionic has completed the acquisition of the Galvani Lithium Licenses in Minas Gerais, Brazil.
Copper Fox delays 2,500-metre drill program at Eaglehead project in British Columbia.                                                                                
Copper Fox Metals (TSXV: CUU) has suspended plans to complete the proposed 2,500-metre drilling program on its 100% owned Eaglehead polymetallic porphyry copper project in British Columbia.
G Mining Ventures reach construction decision for Tocantinzinho Gold.
G Mining Ventures has announced its formal construction decision for Tocantinzinho Gold project, as well as reporting a project development update.
Rio Tinto, China Baowu to develop Australian iron ore project for $2bn.                                                                                                   
Rio Tinto Ltd said on Wednesday it would team up with its biggest customer China Baowu Steel Group to develop an iron ore project in Western Australia for $2 billion as it looks to prop up its production from the Pilbara region.
First holes completed for Great Southern Copper drilling programme.
Great Southern Copper plc has announced that the first holes have been completed at its San Lorenzo project.