Diamond Drilling Lubricant DRILL LUBE
Canadian miner Alamos Gold (TSX: AGI) has begun production at its La Yaqui Grande mine in Mexico, following the completion of construction this month, slightly ahead of schedule.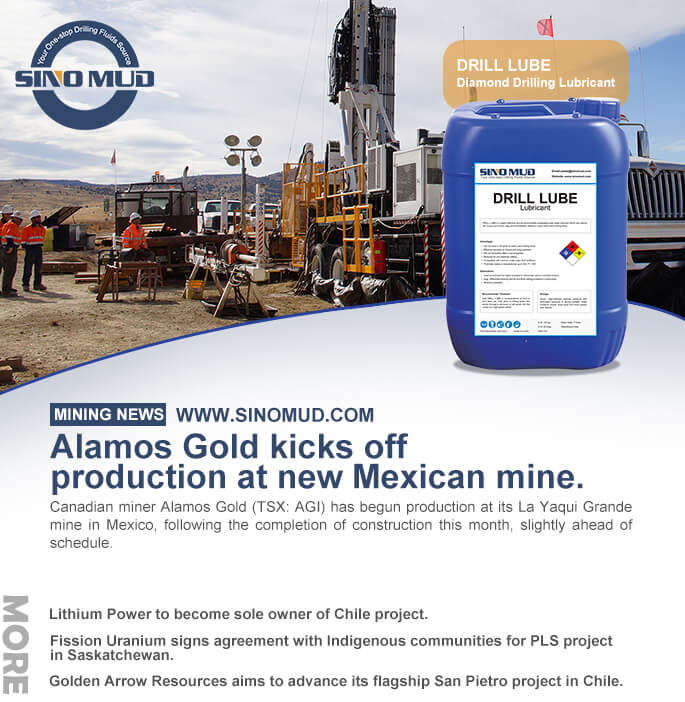 Fission Uranium signs agreement with Indigenous communities for PLS project in Saskatchewan.
On its way to develop what could be the next low-cost uranium operation in Canada, Fission Uranium (TSX: RCU) has reached another major milestone with the signing of an engagement and capacity agreement with the Ya'thi Néné Lands and Resources Office (YNLR).
Golden Arrow Resources aims to advance its flagship San Pietro project in Chile.                                                                                                       Canadian explorer Golden Arrow Resources holds a portfolio of precious and base metal projects in Argentina and Chile.
Argentina Lithium & Energy aims to make new lithium brine discovery at Rincon West in Argentina. 
Canadian explorer Argentina Lithium & Energy aims to advance new sources of high-quality lithium in Argentina to meet the growing demand for clean energy technologies powered by lithium-ion batteries.
Lithium Power to become sole owner of Chile project.                                                                                             Australia's Lithium Power International is merging with its joint venture partners in the Maricunga project in Chile, as part of the company's plans to become the asset's sole owner.
Castillo Copper grants option to sell Zambia copper projects
Castillo Copper Ltd has granted Hyperion a 12-month option to acquire 100%-owned subsidiary, Zed Copper, which owns four projects in Zambia's copper-belt, for total consideration of £3.75 million.
Kinross Gold sells Russian assets at half the agreed price.
Kinross, which operated in Russia for about 25 years, said the price change followed a review by a recently formed commission to control foreign investments.
Fortuna provides Séguéla gold project construction update.
Fortuna Silver Mines Inc. has provided an update on construction activities at its Séguéla gold project located in Côte d'Ivoire.
Ariana Resources announces Tavsan resource drilling results.
Ariana Resources plc has announced recent resource and exploration drilling results obtained from the Tavsan Project.
Metals Australia to acquire key battery metals and gold projects.
Metals Australia Ltd has announced the execution of a binding sale agreement to acquire an 80% interest in Payne Gully Gold.