Canadian miner Dundee Precious Metals (TSX: DPM) has scored a win in Ecuador as a local court upheld the validity of the company's environmental permits for exploration at its Loma Larga gold underground project.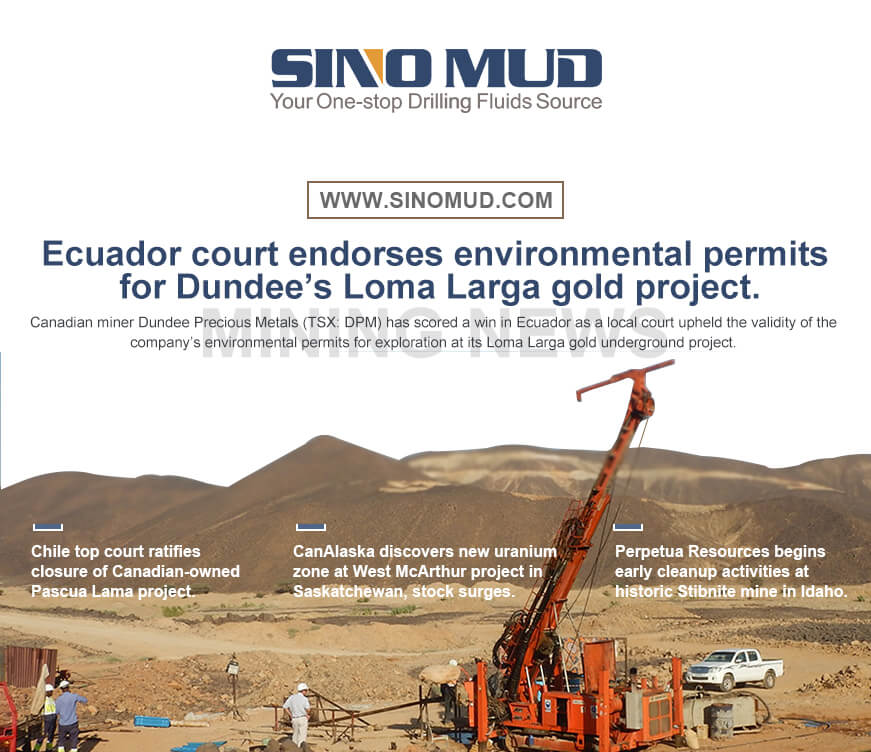 Chile top court ratifies closure of Canadian-owned Pascua Lama project.                                                                    
Chile's Supreme Court on Thursday ratified the definitive closure of Canada-based Barrick Gold's controversial $8.5 billion Pascua Lama gold and copper mining project, previously ordered to shutter by the country's environmental regulator in 2018.
CanAlaska discovers new uranium zone at West McArthur project in Saskatchewan, stock surges.                                                                                                                        
CanAlaska Uranium (TSXV: CVV) has discovered a significant zone of basement-hosted uranium mineralization during its summer drilling program at the West McArthur project in Saskatchewan. West McArthur is a joint venture project with Cameco, the world's largest public uranium company. CanAlaska currently owns about 70% of the JV and is the operator.
Perpetua Resources begins early cleanup activities at historic Stibnite mine in Idaho. Focused on site restoration and redevelopment of gold-antimony-silver deposits in the Stibnite-Yellow Pine district of central Idaho, Perpetua Resources (NASDAQ: PPTA; TSX: PPTA) has initiated work to improve the water quality at the historic Stibnite mine site, which, after 100 years of mining activity, has seen millions of tonnes of unconstrained tailings and mine waste left behind by previous operators.
Where can I purchase drilling fluids in South America?
SINO MUD is a drilling fluids supplier, Who is specialized in providing one-stop drilling mud sources to drilling companies.
SINOMUD has a lot of drilling mud agents in South America, including Mexico, Peru, and Suriname.
Stock Products Item: Powder polymer CHP, Foam plus, bentonite, sand cure, Liquid polymer SUPER POLY, Drilling Polymer CORE FIX, CHP, CLAY FIX, Viscosifier CX TROL, Lubricant DRILL LUBE, Drilling Grease Rod Grease, Thread Grease.