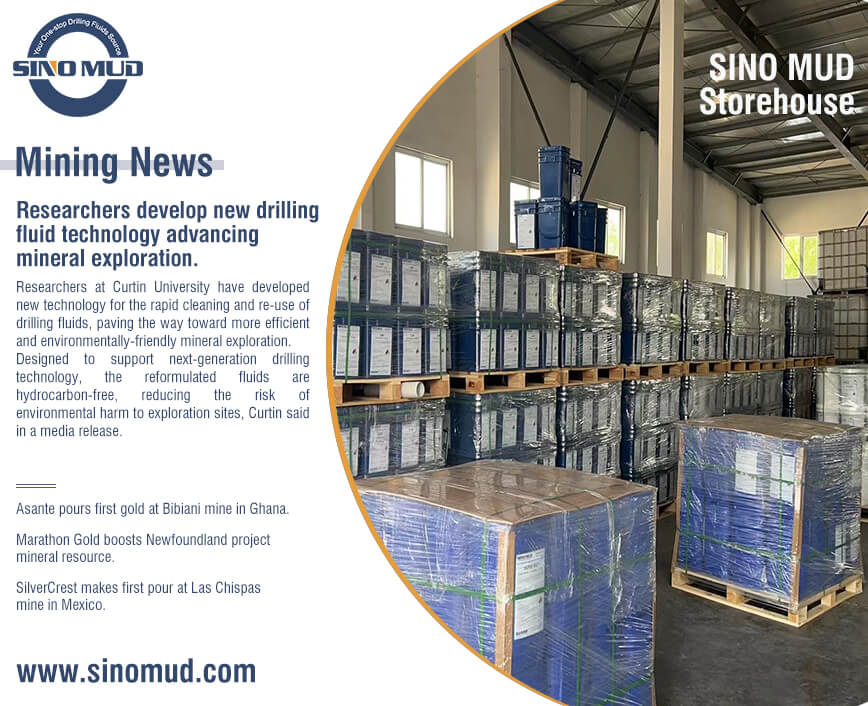 Researchers at Curtin University have developed new technology for the rapid cleaning and re-use of drilling fluids, paving the way toward more efficient and environmentally-friendly mineral exploration.
Designed to support next-generation drilling technology, the reformulated fluids are hydrocarbon-free, reducing the risk of environmental harm to exploration sites, Curtin said in a media release.
Asante pours first gold at Bibiani mine in Ghana.
The mine is expected to produce 175,000 ounces of the precious metal over the next 12 months, ramping up to 220,000 ounces the second year.
Marathon Gold boosts Newfoundland project mineral resource.                                                                                  
Marathon Gold (TSX: MOZ) has increased the mineral resource estimates for its Valentine Gold project in central Newfoundland, the largest undeveloped bullion project in Atlantic Canada.
Centamin shares jump on potential Sukari gold mine extensions.
Centamin (LON: CEY) (TSX: CEE) said on Thursday that exploration around its flagship Sukari gold mine in Egypt has allowed it to identify the potential for a satellite open pit within the concession as well as extensions of the underground orebody.
SilverCrest makes first pour at Las Chispas mine in Mexico.  
 Following the successful commissioning of the processing plant at its Las Chispas mine in Sonora, Mexico, SilverCrest Metals (TSX: SIL) has now announced its first pour consisting of 312 kg of doré with approximately 9,200 oz. of silver and 100 oz. of gold
Iamgold assays 34 m of 5.81 g/t Au at Karita project in Guinea.
Iamgold (NYSE: IAG; TSX: IMG) has posted new assay results from diamond drilling on its wholly-owned Karita gold project in northeastern Guinea. The property is located along the Senegal-Mali shear zone in West Africa, between the company's Boto gold project in Senegal and its Diakha-Siribaya gold project in Mali.
Brazilian Nickel begins production at Piauí  nickel- obalt laterite project.                                                                   
Brazilian Nickel PLC has announced that, after an 18 month construction and commissioning period, continuous nickel production has begun from its 100% owned Piauí nickel-cobalt laterite project.
Guinea halts Simandou iron ore project again.
Guinea's mines minister has once again ordered a full suspension of activities related to the Simandou iron ore mine project after the two companies involved missed an extended deadline to agree on a joint venture.
Key South African trade route blocked as fuel costs surge.
Protesters in a city in South Africa's north east blocked roads including a key route linking the country to Mozambique with trucks Wednesday as they demonstrated against pump prices rising to a new record.