China's Sinomine Resource Group on Friday launched a $200 million project to build a plant and expand existing mining operations at its recently acquired Bikita lithium mine in Zimbabwe.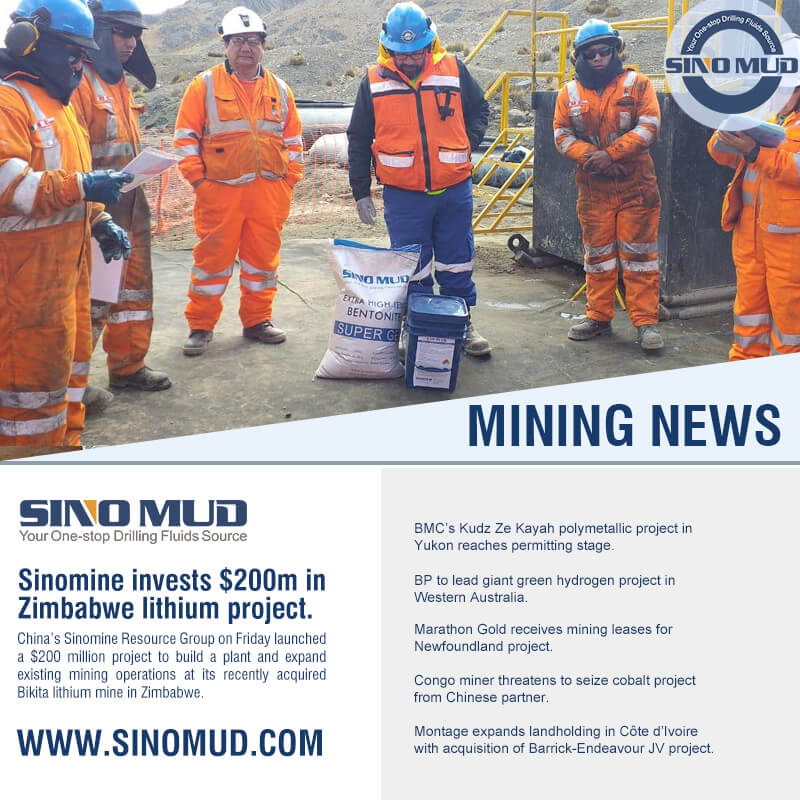 G2 Goldfields releases first resource estimate for its high-grade Oko-Aremu gold project in Guyana
BMC's Kudz Ze Kayah polymetallic project in Yukon reaches permitting stage
KZK is expected to produce an estimated annual average of 14,400 tonnes of copper, 106,800 tonnes of zinc and 25,300 tonnes of lead concentrates.
BP to lead giant green hydrogen project in Western Australia
The project would supply renewable power to local customers in the Pilbara, the center of Australia's iron ore export sector that hosts mines operated by BHP and Rio Tinto.
Marathon Gold receives mining leases for Newfoundland project
The province's leases cover the development of the Marathon and Leprechaun deposits and have a term of 20 years.
Salazar, Adventus earmark $270m for Ecuador copper-gold project
Pre-construction work at the Curipamba-El Domo copper and gold project is expected to begin this year and construction in Q2 2023.
Kinross Gold sells Russian assets at half the agreed price.
Kinross, which operated in Russia for about 25 years, said the price change followed a review by a recently formed commission to control foreign investments.
Ecuador hopes to churn its mining 'wheel' despite opposition.     
Amidst talks of nationalization of mines and stricter regulations for miners in several jurisdictions across South America, Ecuador's Energy Minister Xavier Vera promises a different path as the government aims to put about half-a-dozen projects into construction by 2025.
Congo miner threatens to seize cobalt project from Chinese partner.    
A shareholder dispute over one of the world's biggest copper and cobalt mines is heating up in the Democratic Republic of Congo, after state miner Gecamines threatened to block exports or even take the mine away from its partner, China Molybdenum Co.
Tinna Afromet exits Zimbabwe platinum mine project.               
Russia's JSC Afromet has exited a platinum mining joint venture once touted to become the biggest mining venture in Zimbabwe, its Zimbabwean state-owned partner said on Thursday, announcing it had taken full control of the project.
Montage expands landholding in Côte d'Ivoire with acquisition of Barrick-Endeavour JV project.                                                  
Montage Gold (TSXV: MAU) has entered into an agreement with Barrick Gold and Endeavour Mining to acquire a 100% interest in the Mankono-Sissédougou joint venture project in Côte d'Ivoire."