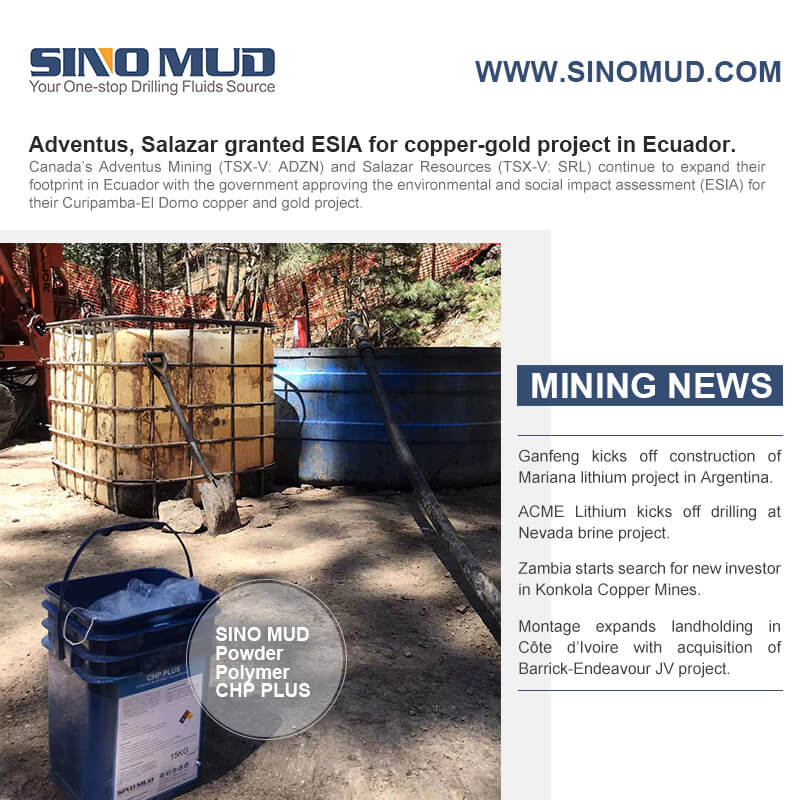 Canada's Adventus Mining (TSX-V: ADZN) and Salazar Resources (TSX-V: SRL) continue to expand their footprint in Ecuador with the government approving the environmental and social impact assessment (ESIA) for their Curipamba-El Domo copper and gold project.
Ganfeng kicks off construction of Mariana lithium project in Argentina.                                                                                                                  Ganfeng Lithium, China's no .1 producer of the battery metal, and its subsidiary Litio Minera Argentina kicked off this week the construction phase of their Mariana lithium project, located in Argentina's northwestern Salta province.
ACME Lithium kicks off drilling at Nevada brine project.                                                                                                                                             ACME Lithium has begun drilling at its Clayton Valley Nevada brine project, located to the northwest of Albemarle's Silver Peak mine, the only lithium brine operation in production in North America.
Zambia starts search for new investor in Konkola Copper Mines.                                                                                                  Zambia's Konkola Copper Mines (KCM) will appoint an adviser to help it find an equity investor willing to fund the mine's expansion, its provisional liquidator said on Tuesday.
Montage expands landholding in Côte d'Ivoire with acquisition of Barrick-Endeavour JV project.                                                                                             
Montage Gold has entered into an agreement with Barrick Gold and Endeavour Mining to acquire a 100% interest in the Mankono-Sissédougou joint venture project in Côte d'Ivoire.