British Columbia's newest greenfield gold mine – the Blackwater mine near Prince George – has marked another milestone with the purchase of C$134 million worth of mine trucks, graders and other heavy equipment.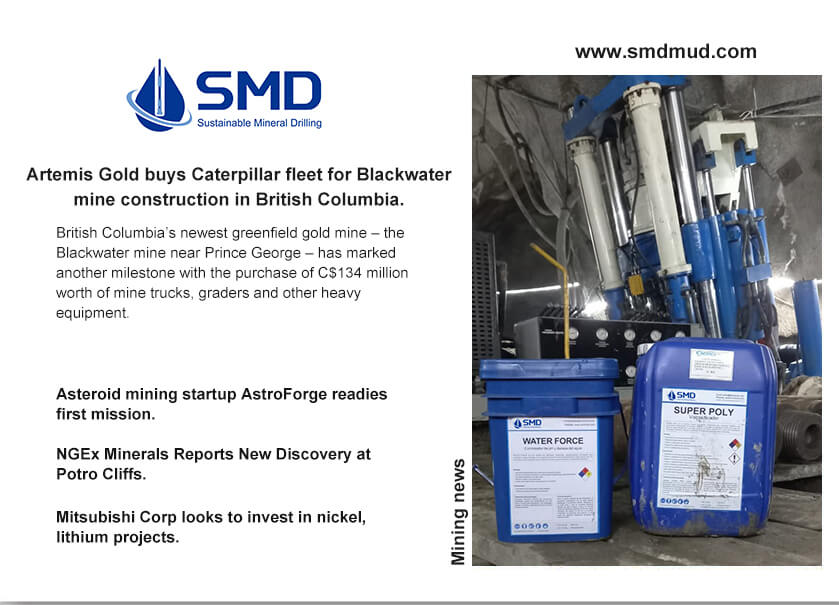 Austral Gold Signs LOI to option its Calvario-Mirador Copper Projects to Colossus Resources.
The Projects are early-stage copper exploration projects located approximately 80 km northeast of the coastal city of La Serena in the Coquimbo Region of central-northern Chile.
Newcrest and Harmony Gold sign Wafi-Golpu MOU framework.
Newcrest and its Wafi-Golpu Joint Venture (WGJV) partner Harmony Gold have signed a framework MOU with Papua New Guinea.
Teck and Agnico Eagle announce completion of the San Nicolás copper-zinc project joint venture.
Teck and Agnico Eagle are now 50/50 joint venture partners at San Nicolás, working together to advance permitting and development of the high-quality copper-zinc project located in Zacatecas, Mexico.
Asteroid mining startup AstroForge readies first mission.
AstroForge, a startup with plans to mine asteroids, is getting ready to launch the first of its two missions on Friday, of which the main objective is to test the firm's technique for refining platinum from a sample of asteroid-like material.
Canada Nickel sees more exploration success with another discovery larger than Crawford.
Canada Nickel Company (TSXV: CNC) has made another discovery with a larger footprint and higher carbon capture potential than its flagship Crawford located in the Timmins mining district of Ontario.
NGEx Minerals Reports New Discovery at Potro Cliffs.
VANCOUVER, APRIL 4, 2023 – NGEx Minerals Ltd. (TSXV: NGEX) ("NGEx Minerals" "NGEx" or the "Company") is pleased to report the discovery of a significant new zone of high-grade copper, gold and silver mineralization at the 100% owned Potro Cliffs project located in San Juan Province, Argentina.
Mitsubishi Corp looks to invest in nickel, lithium projects.
Japanese trading house Mitsubishi Corp is looking to invest in nickel and lithium projects to meet growing demand for electric vehicle (EV) batteries, while boosting its copper output, the head of its metal operations said on Thursday.