Elevation Gold Mining Corporation is pleased to provide an update on its Florence Hill exploration project drilling program. Two holes have been drilled to date, with a third, following up on the first completed hole, in progress. Assays are pending for all holes but are expected to be received during Q1 2023.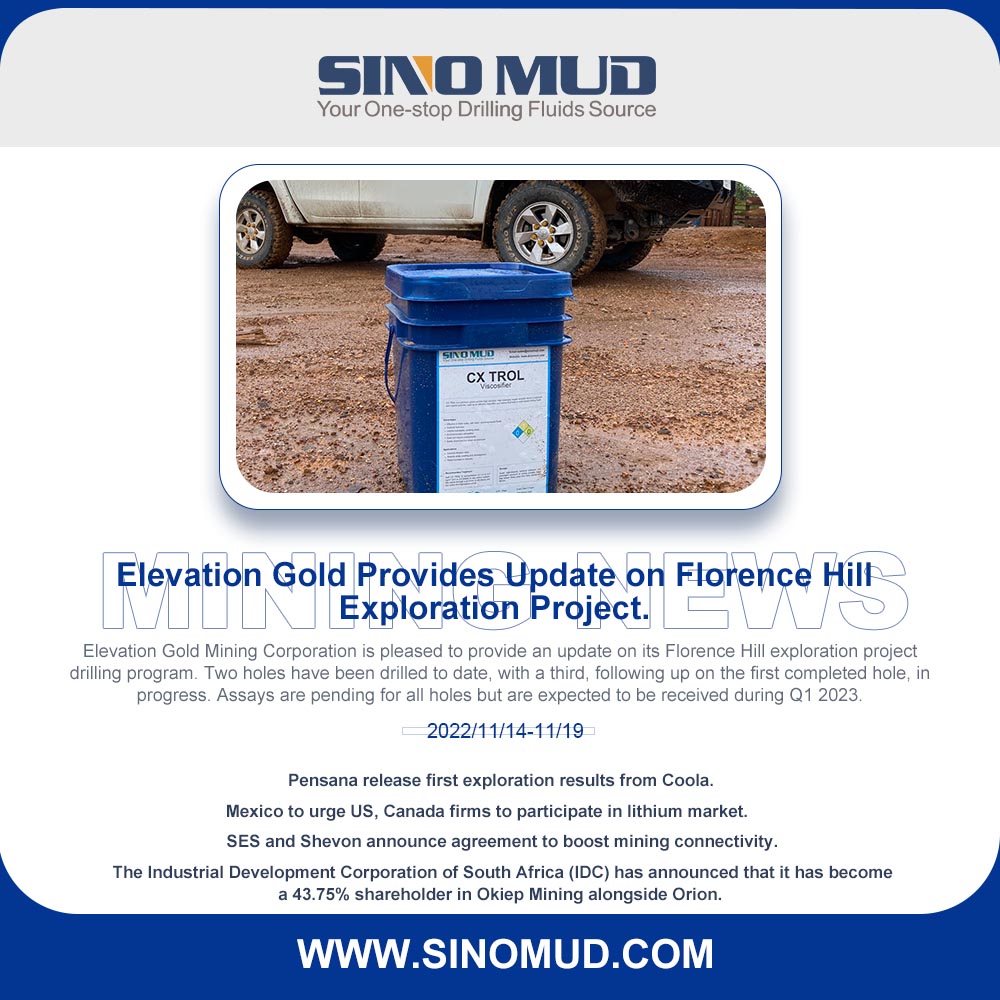 Pensana release first exploration results from Coola.
Pensana have reported significant discoveries from its exploration programme on the Coola licence, near Longojo.
FPX Nickel delivers better resource grade for Baptiste project.                                                                                        
FPX Nickel (TSXV: RPX) reports an upgraded resource estimate for the Baptiste nickel project in central British Columbia. The new estimate includes the results of infill drilling done in 2021 and is based on a new geological modelling approach. For the first time, the total nickel content and potential byproduct cobalt and iron are included.
 SES and Shevon announce agreement to boost mining connectivity.
SES and Shevon have announced an agreement to provide high-speed satellite-based connectivity services to a mining company in the DRC.
Pilbara Minerals to begin paying dividends on lithium boost. Pilbara Minerals Ltd will start paying dividends to shareholders for the first time in its 15-year existence as a publicly listed company, it said on Wednesday, as the lithium-focused miner benefits from market conditions for the battery metal.
 Lucara announces extended diamond sales agreement with HB.
Lucara Diamond has entered into an extended diamond sales agreement with Lucara Botswana and HB Trading for the purpose of selling rough diamonds from the Karowe mine until 2032.
Mexico to urge US, Canada firms to participate in lithium market.                                                                  
Mexican President Andres Manuel Lopez Obrador said on Tuesday his administration will issue a call for US and Canadian companies to participate in the country's incipient lithium market.
IDC acquires a 43.75% stake in Okiep Mining.
The Industrial Development Corporation of South Africa (IDC) has announced that it has become a 43.75% shareholder in Okiep Mining alongside Orion.
i-80 Gold stock rises on bonanza grades drilled at Ruby Hill in Nevada.                                                                         
 i-80 Gold (TSX: IAU; NYSE: IAUX) has received promising results from the first four holes drilled to follow up the recently discovered Hilltop zone that have confirmed high-grade, polymetallic CRD (carbonate replacement) mineralization at the company's 100%‑owned Ruby Hill property in Nevada.
 Firering Strategic Minerals announces assay results at Atex project.
Firering Strategic Minerals has released the first lithium assay results at its Atex Lithium-Tantalum project, in Côte d'Ivoire.