Ivanhoe Mines (TSX: IVN)(OTCQX: IVPAF) said on Monday it had finished construction of the Shaft 1 production changeover at its platinum group and gold Platreef mine in the South African province of Limpopo.
Ivanhoe is developing the multi-billion dollar project in three scalable phases and sees this as its "starter mine."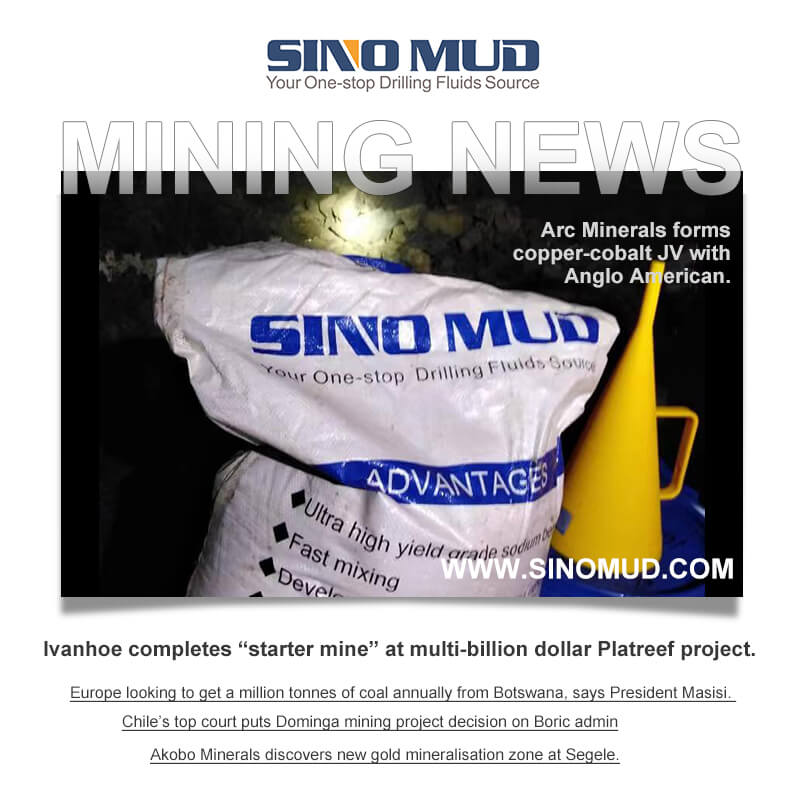 Arc Minerals forms copper-cobalt JV with Anglo American.
Arc Minerals has entered into an agreement with a subsidiary of Anglo American plc. Under the agreement the parties intend to form a joint venture (JV) with respect to the company's copper-cobalt project located in the North-Western province of Zambia.
De Beers back to search for diamonds in Angola.                                                                                                      
De Beers, the world's largest diamond miner by value, has inked two mineral investment deals with the Angolan government granting the company exploration rights for 35 years in the country's northeast.
Akobo Minerals discovers new gold mineralisation zone at Segele.
Over 500 workers at Mozambique coal mine go on strike. Over 500 workers at a coal mine in Mozambique owned by a subsidiary of an Indian company have been on strike for a week, the company said in a statement on Tuesday, hurting coal production at a time of peak coal prices.
Chile's top court puts Dominga mining project decision on Boric admin
Chile's top court on Wednesday turned down appeals filed by communities and environmentalists against the controversial Dominga mining project, saying a final decision needs input from President Gabriel Bor
ic's administration.
Europe looking to get a million tonnes of coal annually from Botswana, says President Masisi.                                                                                                Botswana has been inundated with inquiries to supply coal to Europe and estimates that demand from Western countries could top a million tonnes a year, President Mokgweetsi Masisi said on Tuesday, as the Ukraine war forces Europe to pivot more to Africa for energy resources.
The top gold mines in 2021
The 10 largest gold mines are located across nine different countries in North America, Oceania, Africa, and Asia.
Together, they accounted for around 13 million ounces or 12% of global gold production in 2021.
First Quantum pulls $1.25bn trigger on Kansanshi expansion.                                                                                                             The board of First Quantum Minerals (TSX: FM) has resolved to proceed with a $1.25 billion expansion of the company's Kansanshi copper mine in Zambia, including the Enterprize nickel project.
Equinox Gold halts RDM mine in Brazil over permit delay.
Equinox Gold (TSX: EQX, NYSE: EQX) has suspended operations at its RDM mine in Brazil for at least two months as scheduled permits needed to raise its tailing dam were delayed, the company said on May 16.