This year, Pacific Ridge plans to drill a minimum of 6,000 metres at Kliyul.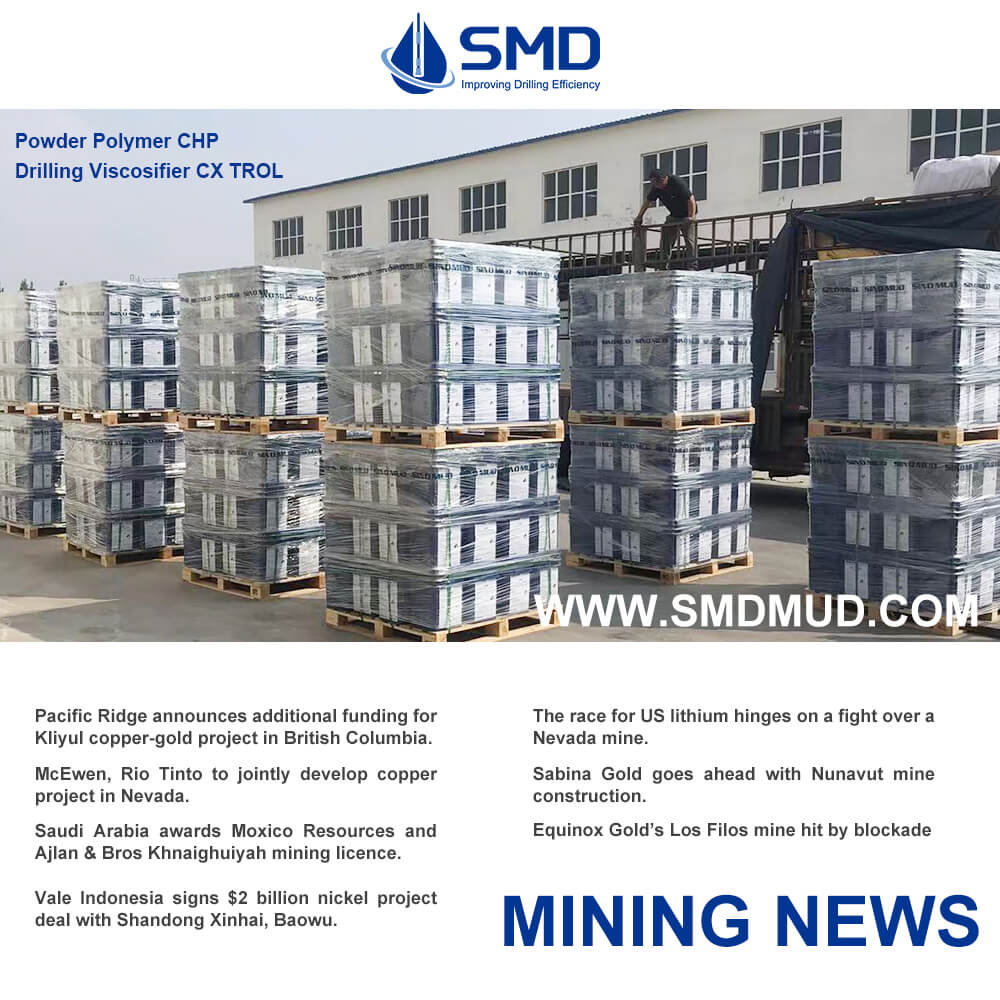 McEwen, Rio Tinto to jointly develop copper project in Nevada.
McEwen Copper, a subsidiary of McEwen Mining (NYSE, TSX: MUX), has inked a deal with Rio Tinto (ASX, LON: RIO) that gives the global miner an option to become a majority joint venture partner in the Elder Creek project, in Nevada.
Saudi Arabia awards Moxico Resources and Ajlan & Bros Khnaighuiyah mining licence.
The Moxico Resources PLC and Ajlan & Bros Mining Company consortium won the licence for exploration of Saudi Arabia's Khnaighuiyah mines, where zinc and copper deposits are estimated around 26 million tonnes, the kingdom's Ministry of Industry and Mineral Resources said on Wednesday.
Vale Indonesia signs $2 billion nickel project deal with Shandong Xinhai, Baowu.   
Nickel miner PT Vale Indonesia on Tuesday signed an investment deal with China's Shandong Xinhai Technology Co. Ltd and a unit of China Baowu Steel Group Corp. Ltd to develop a processing plant on Sulawesi island.
Sabina Gold goes ahead with Nunavut mine construction.
Shares in Sabina Gold & Silver (TSX: SBB; OTC: SGSVF) jumped almost 4% on Wednesday after the Canadian miner formally committed to building the C$610 million ($463m) Goose gold mine in Nunavut.
The race for US lithium hinges on a fight over a Nevada mine.
The high-desert mountain pass overlooking alfalfa fields and RV parks doesn't look like a battleground that will shape the country's clean energy future.
But when the rock samples here are pulverized, pulled apart and mixed with chemicals, they yield a metal increasingly seen as white gold: lithium, a critical ingredient for batteries used in electric vehicles, solar energy storage, and consumer electronics.
Equinox Gold's Los Filos mine hit by blockade.
Operations at Equinox Gold's (TSX, NYSE-A: EQX) Los Filos mine in Mexico have been suspended as the result of a blockade by members of the nearby Mezcala community, the company said on Thursday.
Rio2 appeals rejection of EIA for Chile gold project.   
Canada's Rio2's is appealing the rejection of the environmental impact assessment (EIA) for its Fenix gold project in Chile's northern Maricunga region, arguing the dismissal is not consistent with the environmental assessment process that took place over the past two years.
BHP says copper strategy does not depend on M&A after OZ Minerals snub.
Comments come as OZ Minerals rejected last month BHP's $5.9 billion takeover bid to get control of the West Musgrave copper-nickel project.