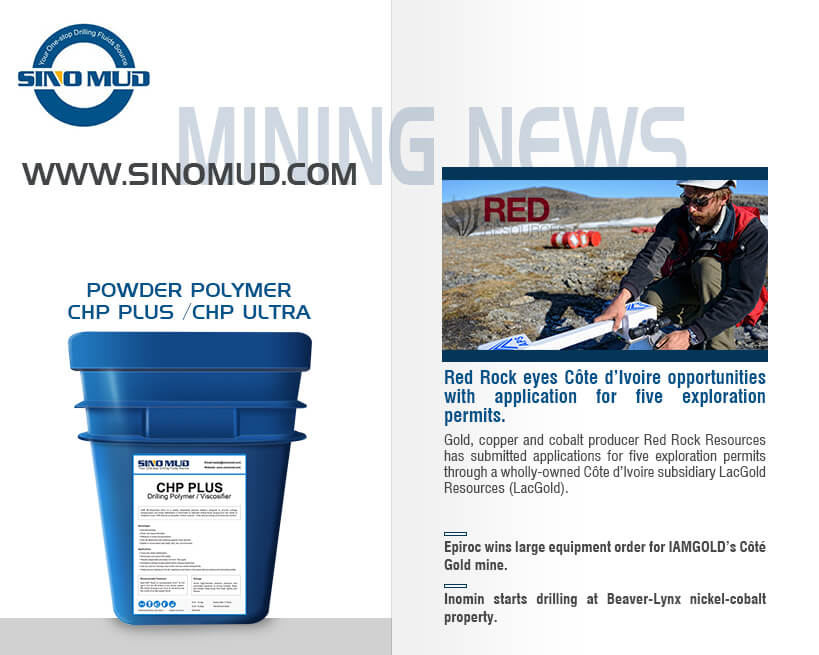 Gold, copper and cobalt producer Red Rock Resources has submitted applications for five exploration permits through a wholly-owned Côte d'Ivoire subsidiary LacGold Resources (LacGold).
Epiroc wins large equipment order for IAMGOLD's Côté Gold mine.
Epiroc, a leading productivity and sustainability partner for the mining and infrastructure industries, has won a large order for surface mining equipment from IAMGOLD Corp. in Canada that will optimise safety and productivity through advanced automation. The machines will be used in production at a greenfield gold mine currently under construction.
SINOMUD Drilling Additives – drilling mud supplier in China
Jervois starts underground work at ICO.
Jervois has started underground construction at its Idaho Cobalt Operations (ICO), in the US.
Inomin starts drilling at Beaver-Lynx nickel-cobalt property.
Inomin Mines Inc. has reported that drilling is underway at its Beaver-Lynx nickel-cobalt property, located in the Cariboo region of British Columbia.