Rio Tinto (ASX, LON: RIO) is going ahead with a $40 million expansion of its iconic Diavik diamond mine in the Northwest Territories of Canada, which will extend the operation's life to at least early 2026.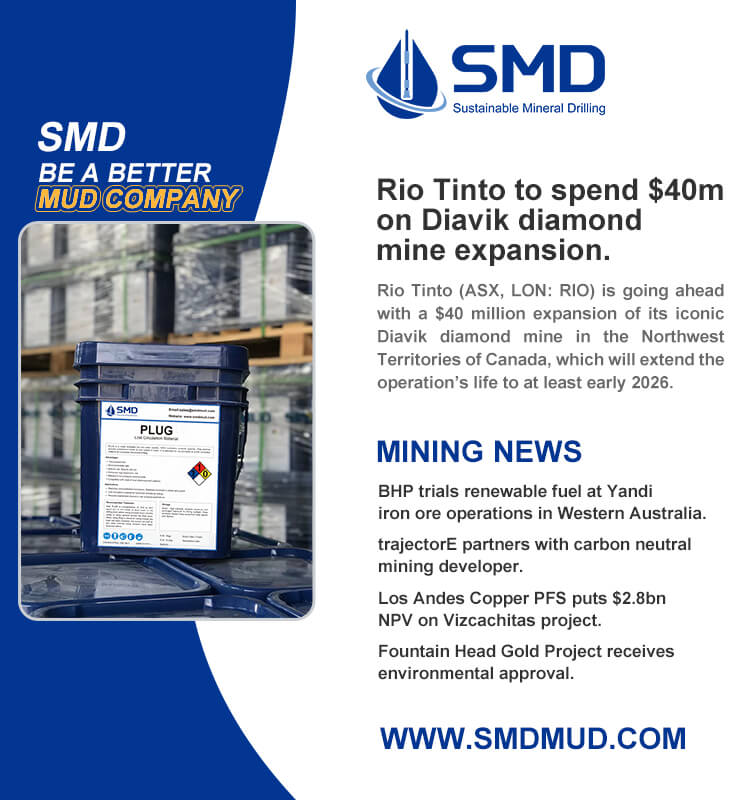 Tahltan Nation and Nisga'a Nation announce new Seabridge KSM project partnership.
Tahltan Nation and Nisga'a Nation have joined together in a new partnership which aims optimise their participation at the Seabridge KSM project.
Uganda gold export earnings fall 80% yr/yr in 2022. Uganda's gold export earnings fell 80% year-on-year in 2022, central bank data showed on Friday, a drop an analyst said was due to effects of US sanctions against one of the East African country's largest exporters of the precious metal.
 Fountain Head Gold Project receives environmental approval.
PNX Metals Limited has advised environmental approval has been granted for its 100% owned Fountain Head Gold Project, located in the Pine Creek region of the Northern Territory, Australia.
Los Andes Copper PFS puts $2.8bn NPV on Vizcachitas project.
Los Andes Copper (TSXV: LA) has announced the results of a positive pre-feasibility study (PFS) for its 100% owned Vizcachitas project in Chile, highlighted by a $2.8 billion post-tax net present value using an 8% discount rate and an internal rate of return of 24%.
TrajectorE partners with carbon neutral mining developer.
trajectorE has commenced a new project with Foran Mining Corp. to support the development of Canada's first carbon-neutral copper mine, located in Saskatchewan.
BHP trials renewable fuel at Yandi iron ore operations in Western Australia.   
The world's biggest miner BHP (NYSE, ASX: BHP) said Thursday it is trialling the use of hydrotreated vegetable oil (HVO) to help power mining equipment at its Yandi iron ore operations in Western Australia.
American Pacific reports high-grade samples from Madison Project.
American Pacific Mining Corp. has reported high-grade gold and copper rock chip samples from a programme at the Madison Copper-Gold Project in Montana.