Japan's Sumitomo Metal Mining Co (SMM) said on Monday it has decided to discontinue a long-running feasibility study on an Indonesian nickel processing plant project because of a disagreement with its partner PT Vale Indonesia.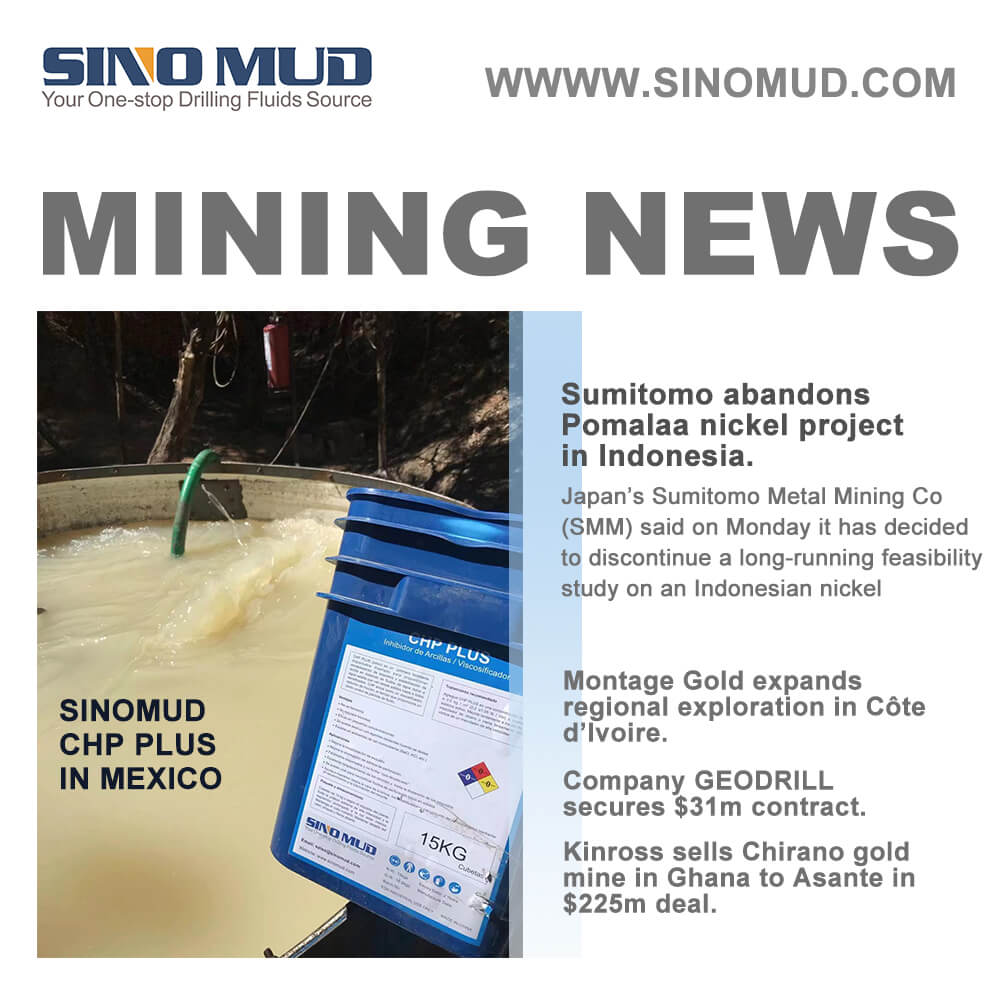 Montage Gold expands regional exploration in Côte d'Ivoire.
Montage Gold is expanding its exploration focus away from the Kone deposit, in Côte d'Ivoire, as it searches for higher grade satellite feed that will boost the economics of the project.
Company GEODRILL secures $31m contract.
Exploration drilling company Geodrill in February announced that it had been awarded significant multi-rig, long-term drilling contracts with multinational gold miner Endeavour Mining
The contracts with Endeavour are for a total 350 000 m of exploration and mine reserve drilling across the miner's key West African operations for a period of two years.
Kinross sells Chirano gold mine in Ghana to Asante in $225m deal.                                                                                  Kinross Gold (TSX: G) (NYSE: KGC) is selling its 90% interest in the Chirano mine in Ghana to fellow Canadian Asante Gold (CSE: ASE) in a cash and shares deal worth $225 million.
Tanzanian project continues to develop.
Aim-quoted investment company Armadale Capital announced in February that it had made further progress in developing its mining lease at the Mahenge Liandu project in Tanzania, as part of ongoing plans to hasten commercial operations.
African Star Minerals appoints Oryx Mining at Oena Diamond Mine
African Star Minerals has entered into a contract mining and diamond recovery agreement with Oryx Mining at the Oena Diamond Mine in South Africa.
Zambia "very close" to picking investor for Mopani copper mine.                                                                                 Zambia's government is close to finding a private investor for Mopani Copper Mines, President Hakainde Hichilema said on Monday, in order to ramp up production at the mine, one of the biggest in the country.
Predictive Discovery Ltd announces further Bankan Gold drilling results
Predictive Discovery Ltd has announced further diamond drilling results at its Bankan Gold Project, located in Guinea.
The company completed a review of the drilling programme and following a competitive tender has awarded a new drilling contract to Capital Drilling, with a minimum of four diamond drill rigs expected on site in the near-term delivering a significant ramp-up in drilling activity.
Newmont boosts investment in Yanacocha gold mine in Peru.                                                                                       Newmont (NYSE: NEM) (TSX: NGT), the world's no. 1 gold miner by output, has increased its planned investments for its Yanacocha Sulfides gold project in Peru from $2.25 billion to $2.5 billion, with a firm decision on the amount to be made by year-end.
Sitka Gold intercepts 1.21 g/t gold over 62 metres at RC project in Yukon
Sitka Gold (CSE: SIG) published results of the first diamond drill holes completed during its 2022 winter exploration program at the district-scale RC gold project.
The property comprises a land package of 37,600 hectares within the Tombstone gold belt of Yukon. The target at the RC project is an intrusion-related gold system. Other intrusion-related deposits found throughout the Tombstone belt include Victoria Gold's Eagle and Olive deposits, Golden Predator's Brewery Creek deposits, and Florin Resources' Florin deposit.