Exploration and development company West Mining has received the necessary exploration approval required to start its first-ever exploration programme for the Blue Cove copper project, in Newfoundland.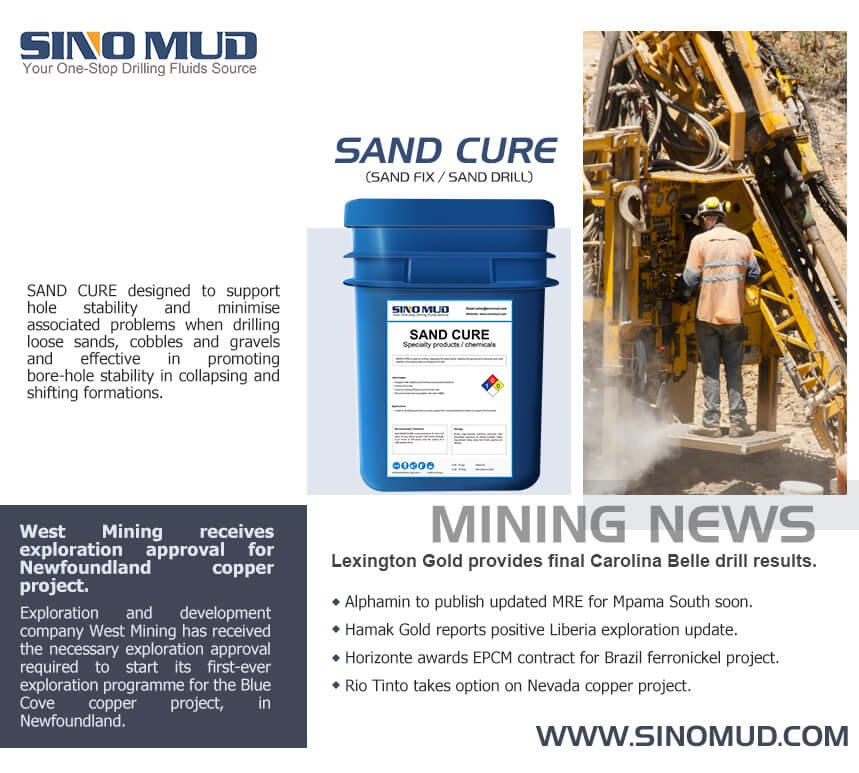 Lexington Gold provides final Carolina Belle drill results.
Lexington Gold has announced assay results received in respect of the remaining drill holes from the company's reverse circulation drilling programme at the Carolina Belle project.
Alphamin to publish updated MRE for Mpama South soon.                                                                                      
Alphamin Resources Corporation has announced positive drill results from the Mpama South prospect and the Mpama North mine, at its Bisie tin complex, in Democratic Republic of Congo.
GCM Mining provides annual update to Segovia's mineral resource and reserve estimates.
GCM Mining Corp. has completed updated mineral resource and mineral reserve estimates for its Segovia Operations, prepared in accordance with the Canadian Institute of Mining Metallurgy and Petroleum Definition Standards.
Platina completes Munni Munni sale.                                                                                                            
unior Platina Resources has completed the sale of a 30% interest in the Munni Munni platinum group metal (PGM) project, in Western Australia,
Hamak Gold reports positive Liberia exploration update.
Hamak Gold Ltd has announced that exploration work has been completed across two priority areas in the highly prospective Gozohn Licence in central Liberia.
Horizonte awards EPCM contract for Brazil ferronickel project.                                                                        
 Nickel developer Horizonte Minerals has awarded the engineering, procurement and construction management (EPCM) contract for the construction of its Araguaia ferronickel project to Pöyry Tecnologia, a Brazilian subsidiary of global engineering services firm AFRY.
Nimba Development Company and government of Guinea take full control of Société de Développement Nimba.
Along with the government of Guinea,Nimba Development Company has been transferred control of Société de Développement Nimba, the owner of the Nimba Iron Ore Project.